Top 10 Science Fiction and Fantasy Series for Young Adults
Do you love science fiction and fantasy? Are you a fan of magic and mythical creatures? You're not alone. I've been obsessed with young adult literature ever since I first discovered it. In fact, it's what inspired me to become an author. But this isn't about me or my books. It's about the series that helped inspire me.
Let's get started.
NOTE: I chose not to assign numerical values to each series because it would have been unfair and because determining an exact order would have been nearly impossible. Instead, I ordered them randomly.
Pendragon
I love this series. Not only was it one of the first science fiction/fantasy series I ever read, but it inspired me to become an author. It tells the tale of Bobby Pendragon, a teenager who unwittingly travels to another world. He battles knights and monstrous creatures alike in an attempt to protect his new friends from an evil villain named Saint Dane. Click Here to learn more about this series.
Camp Half-Blood Chronicles
This is more of a franchise than an actual series, but I love all three of the sequences contained within this universe—Percy Jackson and the Olympians, The Heroes of Olympus, and The Trials of Apollo—so I decided to count them as one. If you like Greek mythology and fast-paced action, then you will LOVE this world. Click Here to learn more about this series.
The Maze Runner
I'm quite picky when it comes to what I read, and I don't like most forms of science fiction, but I absolutely LOVED The Maze Runner series. It throws you right into the action and doesn't let go until the very last page. If you like awesome characters, intriguing plotlines, and post-apocalyptic fiction, you will absolutely adore The Maze Runner. Click Here to learn more about this series.
Harry Potter
Let's be honest. If you haven't read Harry Potter, you've basically been living under a rock for the past twenty years. So, shove that sucker aside, stretch your sore muscles, and march over to the nearest bookstore, because you're about to have your mind blown. Click Here to learn more about this series.
Artemis Fowl
The Artemis Fowl series is another classic. It's a fast-paced, well thought out series that leaves readers wanting more. I've read every single book in the series, and I'm eagerly awaiting the release of the Artemis Fowl movie. Click Here to learn more about this series.
His Dark Materials
His Dark Materials (also known as The Golden Compass) is one of my favourite series. I especially love the mulefa—a species of animals that move around on wheel-like pods—and the imaginative nature that imbues every detail of the story. Click Here to learn more about this series.
The Seven Wonders
I love this series… but I'm also annoyed by it. Why? Because it was planned as a seven-book series, only to be trimmed down to five books for some unknown reason. The first four books are FANTASTIC, but the fifth and final installment feels rushed and unpolished, like the author threw it together because he wanted the series to be over. Nonetheless, this series is among my favourites because it explores the seven wonders of the world and is filled with non-stop intrigue. Click Here to learn more about this series.
The Underland Chronicles
Everyone who enjoys science fiction and young adult literature will be familiar with Suzanne Collins, but not many people know The Hunger Games wasn't her first series. That privilege is reserved for The Underland Chronicles. Geared toward a slightly younger audience, this series is, in my opinion, EVEN BETTER than The Hunger Games. It's imaginative, immersive, and completely original. Click Here to learn more about this series.
The Chronicles of Narnia
With over one hundred million copies sold, The Chronicles of Narnia is among the most popular series ever written. Though they were written seventy years ago and I haven't read them in well over a decade, I remember them fondly. If you enjoy heroic characters and imaginative fantasy, you'll love this ageless classic. Click Here to learn more about this series.
The Epic Adventures of the Techno Wizard
This is the least known of the series on this list, and I almost didn't include it, but it's such a cool concept that I couldn't resist. Thrown into a world where magic is commonplace, the main character uses his gadgets—a cell phone, a drone, etc.—to defeat his enemies and trick them into thinking he's a wizard. It's fast-paced and highly original. Click Here to learn more about this series.
I hope you enjoyed my Top 10 list, and please don't hesitate to let me know if you feel I forgot a series. Also, if you like the books mentioned above and enjoy time travel, you'll love my Will Save series. Scroll down to learn more and download the first book for FREE.
—G. Sauvé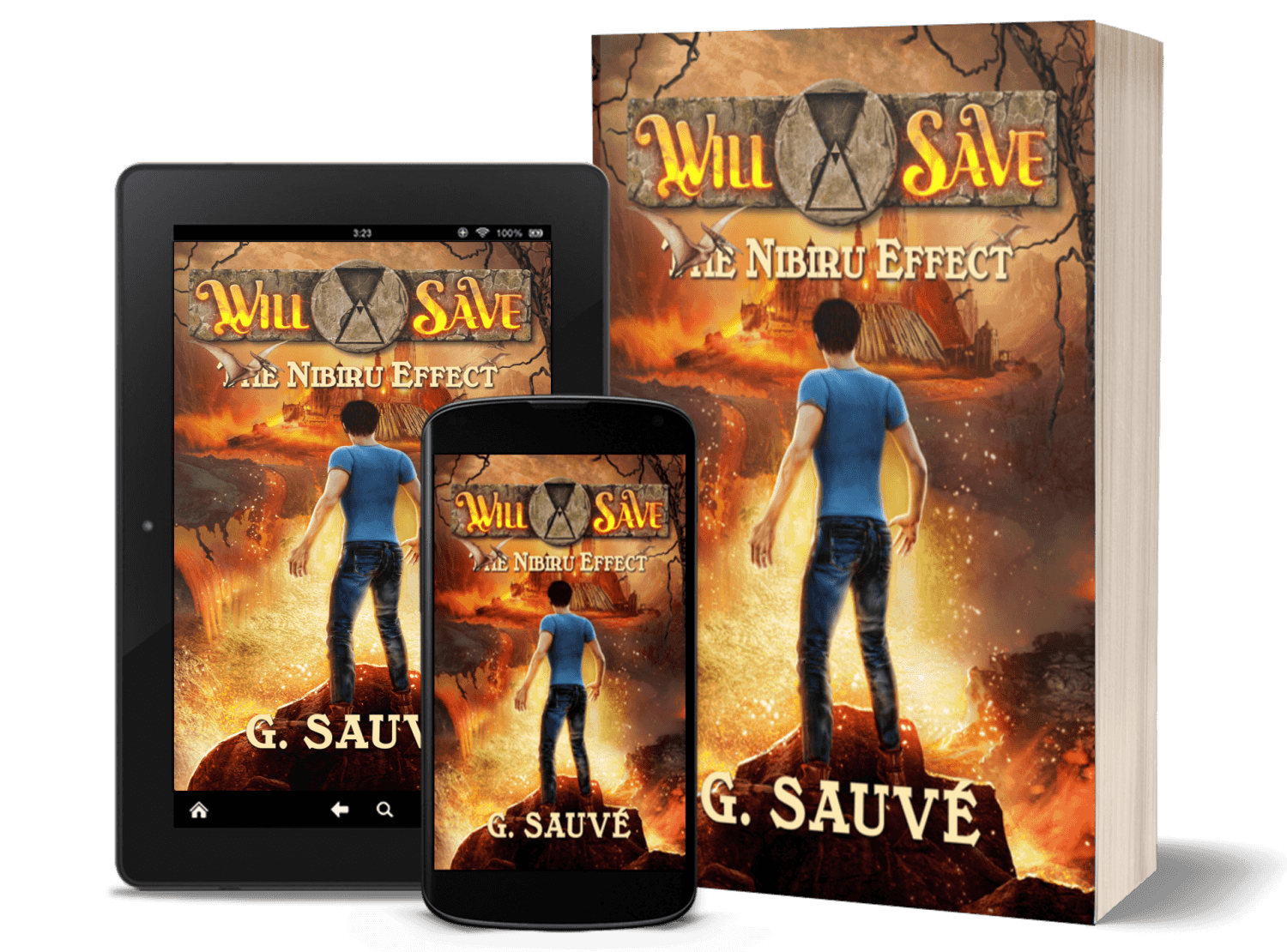 Lured away from his life at the orphanage by the promise of a family reunion, fifteen-year-old Will Save unwittingly embarks on an adventure through time and space.