Top 10 Science Fiction and Fantasy Authors for Young Adults
Do you love science fiction and fantasy? Are you a fan of magic and mythical creatures? You're not alone. I've been obsessed with young adult literature ever since I first discovered it. In fact, it's what inspired me to become an author. But this isn't about me or my books. It's about the authors who helped inspire me.
Let's get started.
NOTE: I chose not to assign numerical values to each author because it would have been unfair and because determining an exact order would have been nearly impossible. Instead, I ordered them randomly.
Rick Riordan
I love every single book I've read by this author. The Camp Half-Blood Chronicles, which includes Percy Jackson and the Olympians, The Heroes of Olympus, and The Trials of Apollo, is one of my favourite fictional worlds. They even made movies based on the first two Percy Jackson books. Anyone who loves Greek mythology MUST read these books. Click Here to learn more about this author.
James Dashner
There has been some controversy regarding this author, but there's no denying that he's a skilled storyteller. The Maze Runner is also among my favourite series and has spawned a successful movie franchise and two companion books. The Mortality Doctrine was also another good series, as was The 13th Reality. Click Here to learn more about this author.
J.K. Rowling
You can't have list of top science fiction and fantasy authors and not include J. K. Rowling. In fact, I'd go as far as saying that you're not a real fan of young adult literature if you haven't read the Harry Potter series. If you've yet to visit the wizarding world of Hogwarts, stop reading now and grab a copy of The Philosopher's Stone. Click Here to learn more about this author.
D.J. MacHale
Pendragon was one of the first science fiction/fantasy series I ever read. In fact, I'm pretty sure it's one of the main reasons I became an author. While less famous than most of the other authors on this list, D.J. MacHale is—and forever will remain—one of my favourite authors. If you like magical adventures and immersive worlds, you will absolutely LOVE the Pendragon series. Click Here to learn more about this author.
Eoin Colfer
Eoin Colfer is another relatively unknown author. Though the Artemis Fowl series has sold over 21 million copies and a movie based on the first book is currently awaiting release, I've yet to meet another person who knows who he is. If you haven't read the enthralling series, do yourself a favour and grab a copy now. Click Here to learn more about this author.
Suzanne Collins
I'll take a leap of faith and assume you've read The Hunger Games novels—or at least watched the movies. But, did you know she wrote another series? It's called The Underland Chronicles, and it's AMAZING. In fact, I prefer it to The Hunger Games. Yup. It's THAT good. Click Here to learn more about this author.
Peter Lerangis
I both love this author and am annoyed by him. Why? Because he wrote an amazing series called The Seven Wonders, but rather than completing the seven-book sequence as it was originally planned, he combined the three final books into a single tome, making the ending feel rushed. I don't know why he did this or even if it was his choice (one of the downsides of working with a publisher is that you don't always get to do what you want), but I will forever wonder why the series was cut short. Nonetheless, The Seven Wonders is a great story that deserves to be read. Click Here to learn more about this author.
Joseph Delaney
I'm not a big fan of horror novels, but Joseph Delaney's The Last Apprentice (also known as The Wardstone Chronicles) is an enthralling saga. I'm currently midway through the thirteen-book series, and I'm loving it. It's a blend of fantasy and horror with a dark twist that brings a sense of foreboding to every chapter. I recommend it to anyone who enjoys a good story and interesting characters. Click Here to learn more about this author.
Lisa McMann
Let me begin by saying I haven't read any of this author's books. I have, however, purchased both her Unwanteds and Going Wild series, and I'm eagerly awaiting the moment when I finally get to read them. Click Here to learn more about this author.
Brandon Mull
This is another unknown author to me. Well, sort of. I have yet to read a full book by him, but I read a few samples, and I already love his writing style. I have three of his series (Fablehaven, Beyonders, and Five Kingdom) waiting on my shelf, and I'm counting the days until I get to devour them. Click Here to learn more about this author.
I hope you enjoyed my Top 10 list, and please don't hesitate to let me know if you feel I forgot someone. Also, if you like the authors mentioned above and enjoy time travel, you'll love my Will Save series. Scroll down to learn more and download the first book for FREE.
—G. Sauvé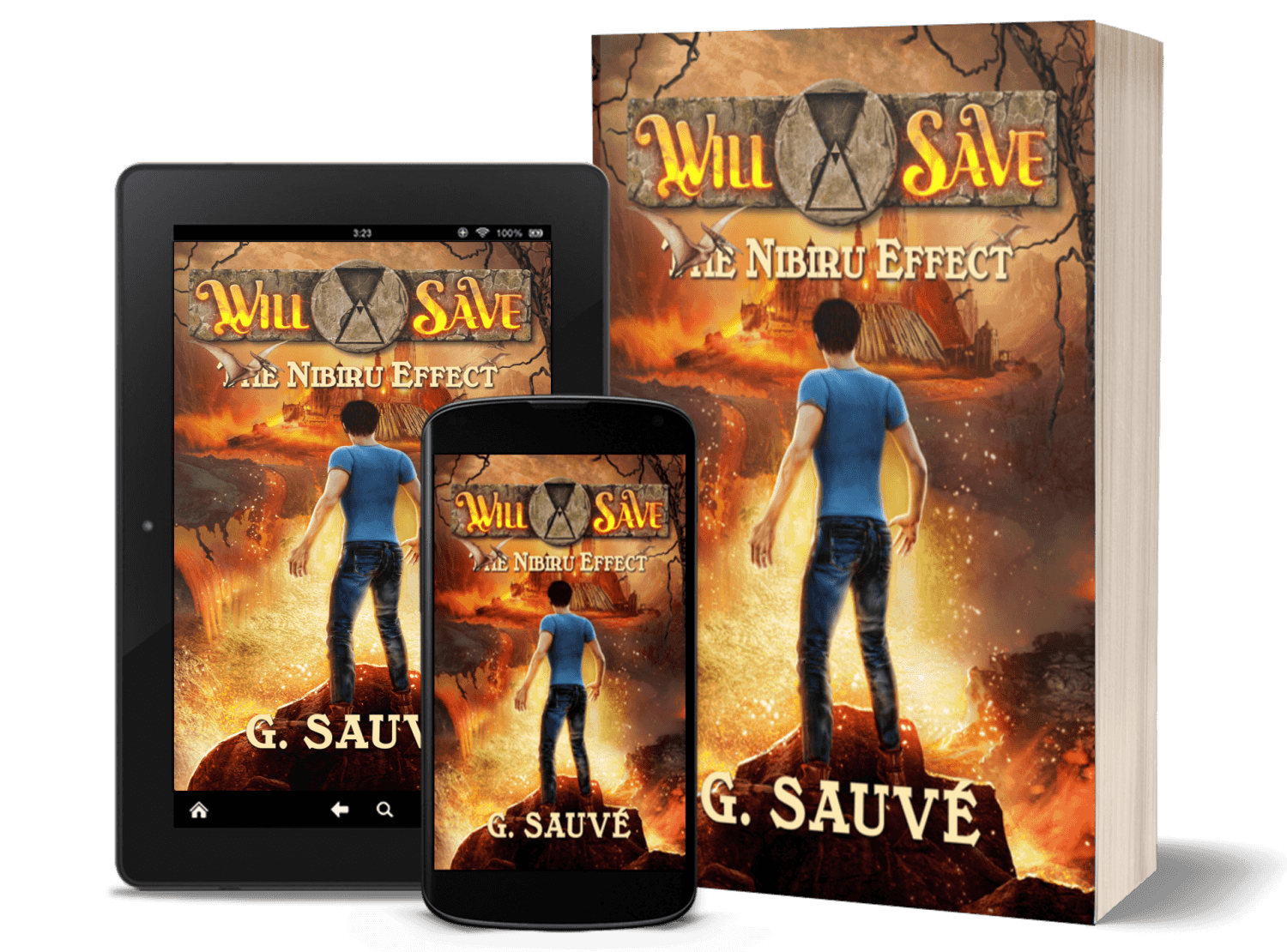 Lured away from his life at the orphanage by the promise of a family reunion, fifteen-year-old Will Save unwittingly embarks on an adventure through time and space.